YeHVaH

"I AM YeHVaH THE ELOHIYM OF YISRAEL FROM EVERLASTING EVEN TO EVERLASTING"
(Genesis 4:26. Exodus 3:14. 1 Chronicles 16:36)

DISCIPLES OF YESHUWA' THE MESSIAH WORSHIP YEHVAH (YHVH): OUR EVERLASTING FATHER, WHO IS THE ONLY TRUE ELOHIYM: THROUGH HIS SON YESHUWA' THE MESSIAH
(Deut. 6:4,13. Isaiah 9:6. 64:8. Matthew 6:9 John 4:23)
"For all the peoples walk everyone in the name of his elohim; and we will walk in the name of YEHVAH, OUR EVERLASTING FATHER, WHO IS OUR ELOHIYM, forever and ever."
(Micah 4:5 Isaiah 64:8)
**************************************************




YESHUWA'

"You will call His name Yeshuwa' because He will save My people from their sins"
(Matthew 1:21)
**************************************************


HELPFUL LINKS
"ANTIYOKUS" (Matthew 24:15. 1 Yochanan 2:18), ANTIOCHUS "EPIPHANES, who was King of Syria from circa 176 to 164 BCE, declared himself as being, "god manifest in the flesh" (1 Timothy 3:16); hence the name "EPIPHANES; just like his successor "yeshu notsry jesus christ; christ jesus" (Acts 19:4. 22:8), who was introduced by the false apostle Shaul/Paul; . SEE our web site document on 'THE BEAST AND HIS MARK'.
JEWISH WELFARE ORGANISATIONS

"The King will answer and say to them: 'Truly I say to you that everytime you did it to one of the needy of these my brothers, even the little ones like these, you did it to me"
(Matthew 25:40)

YAD ELIEZER


'"ONE IN FOUR OF ISRAELI JEWS - "THE CHILDREN OF YISRAEL, THE SEED OF ABRAHAM" (Deuteronomy 1:3. Psalm 105:6) - ARE LIVING BELOW THE POVERTY LINE".

Statistics released by the Israel National Insurance Institute on April 18, 2004 show over 600,000 children living below the poverty line – that accounts for almost ONE THIRD of all children in the Land of Yisrael!

Other reports also indicate many, many entire families suffering from lack of food.
The YAD ELIEZER Organization; which is top rated by the Charity Navigator Rating Agency; provides assistance to people and families who are in dire need throughout the country, with the support of many, to ease the suffering of families of orphans, widows, single parent families, large families, etc.



ARMAGEDDON (HAR-MEGIDDOWN)


The prophesied 2,000 year "times of the Gentiles" (Luke 21:27) during which the devil and false apostle 'Paul' and his christian messengers have "...set themselves, and the rulers take counsel together, against YEHVAH ELOHIYM, and against YESHUWA' his MASHIYACH..." (Exodus 9:30. Psalm 2:1-3. 1 John 2:22) and THE JEWS "shall fall by the edge of the sword, and shall be led away captive into all nations: and YERUSHALEM shall be trodden down of the Gentiles, until the times of the Gentiles be fulfilled" (Luke 21:27).

THE SERPENT (PAUL) SHALL COME FROM DAN
Includes a Map showing the situation of the city of DAN; "on the road to Damascus"; where the devil and false apostle 'Pail' was possessed by SATAN THE SERPENT


PHOTOGRAPH OF CHRISTIAN RECEIVING THE MARK OF THE BEAST

The Christian feast day of "THE MARK OF THE BEAST is celebrated on March the 1st. EVERY year when the christian followers of the devil and false apostle 'Paul' receive "the mark of the beast" (Revelation 13:16)

AN INDICTMENT OF CHRISTIANITY and ISLAM

"Where is God in all of this?" asks Ron Ferguson
"And in the first year of the new millennium, the Roman Catholic Archbishop of England and Wales has solemnly declared that Christianity is "all but vanquished" in the United Kingdom. A day of reckoning has come".
"Slaughter in crusades, Northern Ireland etc"
CRIMEN SOLICITATIONS
THE CRIME OF SOLICITATIONS
THE EVIL "DEMONS" (Revelation 16:14) -- THE PRESENT POPE BENEDICT XV1 and his equally EVIL predecessor POPE JOHN XXXIII --through his EVIL PAPAL document 'CRIMEN SOLICITATIONIS'- COVER UP THE WIDESPREAD "PLAGUES" (Revelation 18:4) OF CLERICAL AND RELIGIOUS, RAPES AND SEXUAL AND PHYSICAL ABUSES OF WIDOWS AND ORPHANS AND ALTAR BOYS AND HELPLESS "LITTLE CHILDREN" (Matthew 19:3) AND OTHER SEXUAL BESTIALITIES AGAINST 'BRUTE BEASTS' SUCH AS CATS AND DOGS.

OUR WIDOWS AND ORPHANS AND "LITTLE CHILDREN" (Matthew 19:3) ARE NOT SAFE FROM THESE "BEASTS OF THE LAND" (Genesis 3:1) NEITHER ARE CATS AND DOGS AND OTHER ANIMALS. CLICK HERE

EXPOSE by THE OBSERVER NEWSPAPER.

Vatican told bishops to cover up sex abuse. Expulsion threat in secret documents. Read the 1962 Vatican document (PDF file). Antony Barnett, public affairs editor Sunday August 17, 2003 The Observer

The Vatican instructed Catholic bishops around the world to cover up cases of sexual abuse or risk being thrown out of the Church
ALSO
A 'Pontifical Secret,' POPE BENEDICT XVI (Cardinal Ratzinger) EVIL 2001 Letter Ordered Bishops; under the threat of excommunication if they disobeyed; to OBEY the evil document 'Crimen Solicitationis' (See above) AND TO CONTINUE TO COVER-UP CLERICAL AND RELIGIOUS, RAPES AND SEXUAL AND PHYSICAL ABUSES.
http://www.bishop-accountability.org/resources/resource-files/churchdocs/EpistulaEnglish.htm
ALSO
THE GREAT CATHOLIC COVER UP. 'THE POPES ENTIRE CAREER HAS A STENCH OF EVIL ABOUT IT'
http://www.slate.com/id/2247861/
ALSO
"PAEDOPHILIA IS NORMAL" SAYS THE EVIL NAZI POPE BENEDICT XVI
http://www.belfasttelegraph.co.uk/news/world-news/popersquos-child-porn-normal-claim-sparks-outrage-among-victims-15035449.html
ALSO
SEE 'FRIGHTENING PICTURE OF POPE BENEDICT XVI AT CHRISTMAS MIDNIGHT MASS' WITH HIS LECHEROUS LOOK EXTENDING HIS HAND AND INVITING THE ALTAR BOYS TO COME CLOSER TO HIM. IMPORTANT REMINDER. EVERY POPE CLAIMS THAT HE IS A 'VICAR OF JESUS CHRIST '; WHICH MEANS THAT HE IS ACTING IN THE PLACE OF THE BEAST (Revelation 13:1) 'JESUS CHRIST'
http://www.scribd.com/doc/940/Frightening-picture-of-Pope-Benedict-XVI-at-Christmas-midnight-mass
ALSO



See also this shocking second report:
CHRISTIAN "DEMONS" SAID 'god told them' to sexually abuse their victims'
"ROMAN CATHOLIC, ANGLICAN, METHODISTS, BAPTISTS, PRESBYTERIAN MINISTERS CLAIMED THAT THEY WERE "DOING GOD'S WORK" AS THEY SEXUALLY ABUSED THEIR VICTIMS.
"The evidence reveals a disturbing picture of how vulnerable women have turned to churchmen for pastoral help, only to be preyed upon" by these EVIL "BEASTS" (Genesis 3:1) OF CHRISTIANITY
JEHOVAH WITNESSES COVER- UP WIDESPREAD INCESTS AND PAEDOPHILEA AMONGST THEIR MEMBERS
"SECRET DATSBASE PROTECTS 23,720 PAEDOPHILES"
Read the shocking report compiled by the BBC TV PANORAMA programme of the DELIBERATE COVER-UP of incidences of the widespread "PLAGUES" (REVELATION 18:4) OF INCESTS and PAEDOPHILEA committed against "LITTLE CHILDREN" (Matthew 19:13) by "THE BEASTS OF THE LAND" (Genesis 3:1) the members of the Christ-ian faction known as the Jehovah Witnesses who worship the IDOL 'Jehovah' or 'Yehovah'. The Hebrew word 'Yehovah' means 'He who causes ruin or mischief'' and is derived from the Hebrew word 'hovah' meaning 'ruin or mischief'. See Strongs Hebrew Concordance reference number 1943:- [1943 hovah ho-vaw' another form for 1942; ruin:--mischief]. These Christ-ian "DEMONS"(Revelation 18:2) have, in their writings, BLASPHEMOUSLY added the vowel 'o' to The Blessed Name "YEHVAH" (Psalm 83:19) and substituted the letter 'J' for "Y"
CLICK HERE > http://news.bbc.co.uk/2/hi/programmes/panorama/2119903.stm



CHRISTIAN POPES, BISHOPS, CLERGY, 'PASTORS', MESSIANICS, PENTECOSTALS, etc ENTHUSIASTICALLY SUPPORTED HITLER
SEE THESE ONLINE PHOTOGRAPHS OF CHRISTIAN CATHOLIC, ORTHODOX, MESSIANIC, AND PROTESTANT BISHOPS AND CLERGY GIVING THE NAZI SALUTE TO HITLER AT THE NUREMBERG RALLY ETC .



THE FOSSIL RECORD REFUTES DARWIN'S EVOLUTION THEORY

"He said with a loud voice: 'Fear Yehvah Elohiym, and give Him glory; for the hour of His judgment has come. Worship Him Who made the heaven, the earth, the sea, and the springs of waters!" (Revelation 14:7 emphasis mine).

"I will give thanks to You, for I am fearfully and wonderfully made; Wonderful are Your works, And my soul knows it very well."
Psalm 139:14)

"The sun also appears, and the sun fades, and desires its place where it appears" (Ecclesiastes 1:5)
*****************
****************************************

BURIAL PLACE AND OSSUARY OF THE APOSTLE SHIMEON BAR_YONAH FOUND NEAR BETHANY. CLICK HERE

Read this interesting report concerning recent archaeological discovery (1953) of the ossuary containing the bones of the apostle "SHIMEON BAR YONAH" (Matthew 16:17) and the remains of other disciples of Yeshuwa'; including "MARY AND MARTHA" and "LAZARUS"; found near "BETHANY" which is situated just outside Yerushalem - which disproves the Christian "LIE" that the apostle SHIMEON 'lived and died and is buried in Rome'.


LEARN BIBLICAL HEBREW IN FREE 12 EASY LESSONS
BIBLICAL HEBREW ALPHABET TABLE
TWO (2) HELPFUL NOTES TO GET YOU STARTED:
1. THERE ARE ONLY TWENTY TWO (22) HEBREW CONSONANTS IN BIBLICAL HEBREW. YOU WILL NOTICE IN THE TABLE BELOW THAT THERE ARE TWENTY SEVEN (27) CONSONANTS. THE REASON FOR THIS IS THAT FIVE OF THE CONSONANTS (Kaf, Mem, Nun, Peh, and Tsadeh) ARE WRITTEN DIFFERENTLY, WHEN THEY APPEAR AT THE END OF A WORD, than when they appear in the beginning or middle of the same word.

2. The SIXTH CONSONANT (Reading from right to left) is V (VAV) NOT 'W' as is BLASPHEOUSLY written in many Christian websites and documents. The 'V' reads as the vowels 'O' or 'U' when the relevant Hebrew vowel point is attached to it, but NEVER, NEVER reads as the BLASPHEMOUS CHRISTIAN 'W'.
DIVINE PROTECTION OF THE BIBLICAL HEBREW ALPHABET IN PSALM 119

When you become familiar with the Biblical Hebrew Alphabet you will be able to see for yourself in Psalm 119 how "The Holy Spirit of my Father" (Matthew 10:20. See this website) wonderfully protected the 'V (VAV)' from being corrupted; by HIS commencing THE FIRST WORD IN EACH VERSE in THE SEVEN VERSES 41 to 48 with the CONSONANT 'V (VAV)'.
HE ALSO DID THE SAME WITH EVERY ONE OF THE TWENTY TWO CONSONANTS IN THE SAME PSALM 119 COMMENCING WITH 'ALEPH' IN THE BLESSED WORD "ASHEREY" MEANING "HAPPY" IN VERSE 1. YOU WILL HAVE NOTICED THAT THE OTHERWISE 'SILENT' ALEPH BECAME AN "A" BECAUSE THE VOWEL POINT FOR "A" IS WRITTEN BENEATH IT. YOU WILL LEARN ABOUT THIS LATER WHEN YOU COME TO STUDY BIBLICAL HEBREW VOWEL POINTS (HEBREW: NIQQUD) MENTIONED BY YESHUWA' IN MATTHEW 5:18 (SEE THIS WEBSITE).
"...HALLELU YEHVAH..."
(Psalm 22:17)
YOU WILL BE BLESSED AS YOU LEARN BIBLICAL HEBREW FOR YOURSELF.
YOU MAY FIND IT HELPFUL IF YOU PRINT THIS TABLE AND KEEP IT BY YOUR SIDE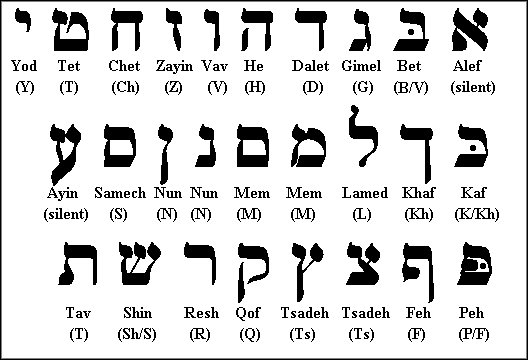 READ and SPEAK FOR YOURSELF the holy language in which "YEHVAH Elohiym" (Exodud 9:30) spoke "face to face" (Exodus 33:11) with His Prophet Mosheh (Moses) and in which the holy scriptures are written.


GULGOTA (PLACE OF A SKULL) WHERE YESHUWA' MASHIYACH WAS HUNG
An old photograph [link below] of "Gulgota ('skull hill' )" (Mattityahu 27:33) shows that the mount is situated alongside a present day bus terminal and is outside of the city of Yerushalem (see Mattityahu 27:32: John 19:20 etc), where Yeshuwa' Mashiyach was "hung". At the foot of the mount is a road leading into Yerushalem from where travellers "passing by" (Matthew 27:39) in and out of the city, had a clear view of Yeshuwa' Mashiyach hanging on "the tree" (vs. 42) above them: "Those who were passing by mocked him and shook their heads..." (Matthew 27: 39-43. See this website).

Note in the photograph, that "Gulgota" (Matthew 27:33) has been wonderfully preserved, even today, in its original desolate state, from evil Christian clerical idolatries and money-making racketeering because Christians believe the "LIE" that their pilgrimage site, within 'the old city', is the correct site.

http://www.bibleplaces.com/newsletter/hr/255_Grotto_of_Jeremiahsr.jpg CLICK HERE
GOOGLE TRANSLATION
TRANSLATION INTO GERMAN, SPANISH, ITALIAN, RUSSIAN ETC OF OUR WEBSITE
CLICK BELOW AND ENTER YOUR LANGUAGE
http://translate.google.ie/?client=firefox-a&rls=org.mozilla:en-US:official&hl=en&tab=wT#en|es|www.disciplesofyeshuwa.com



EMAIL YOUR ENQUIRIES AND COMMENTS TO: disciplesofyeshua@email.com


Copyright © 2009 DISCIPLES OF YESHUWA' (yéshûa') THE MESSIAH. All Rights Reserved.